Künstler*innen:
Matthieu Croizier(he/him)
Luca Frati(he/him)
Tirdad Haschemi(they/them) & Soufia Erfanian (she/her)
Alice Capelli(she/her)
Noé (Catherine) Duboutay(they/them)
Reto Lingg(he/him)
Ayomide Tejuoso (Planton) (she/Her)
Flavia Regaldo(she/her)
Fatma Ben Ammar (she/her) & Hela Briki(they them)
Raphael Reichert(he/him)
Philomène Le Baron(she/her)
Cécile Baumgartner Vizkelety(she/her)
It would have been easy to applaud the artworks exhibited as a new critical departure from the –almost– too conventional way of seeing queer art. Yet, the greatness of this exhibition lies in the actual absence of greatness. This does not claim that these works are not excellent nor that nothing or nobody is truly special, but rather we understand that all moments, all experiences, all types of joy, and disappointments are equally relevant or even equally insignificant.

They all "coalesce like paint or photographic chemicals into the image of a life, and that is good enough." 1 We instead praise the manifold and complex beauty of queer and feminist art as objects themselves of criticism. They want us to question our understanding of art/life by simply being confronted with radical or intimate points of view. They critically ask to be critiqued. For this reason, we ask to dwell within them as they are, to take them home and fight with them; make peace with them or not. The sentimentalist tendency would negate the possibility of criticism of queer objects, due to their marginalized birth. In turn, by simply allowing these artworks to be seen as they are, fragile or invulnerable, they conquer respect and intimacy. The untouchable artwork desires to be hugged.
The delicate task of curating a queer exhibition also consisted of gathering queer perspectives under the same roof. Who are we to decide anyone's queerness? Or to which degree queerness is manifested in their work. Lust*Art finds its beginning here, in the critical space where queer sensibilities lie, where we acknowledge our limits as curators deciding that the power of queer art lies in this precise spot of its vulnerability. We are not framing queerness, but we are embracing its diverseness with pride.
William J. Simmons, Queer Formalism: The Return (2021)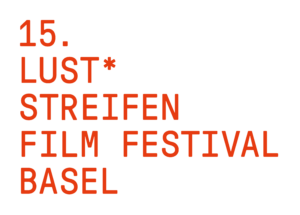 Luststreifen Film Festival celebrates its 15th anniversary. There is  an exciting programme with 13 feature films and documentaries as well as three short film competitions and two additional short film programmes. One Programme, "Heidilicious 2.0", shows works by Swiss filmmakers, while the other "(Un)guilty Pleasures" deals with the topic of fetish.
29.09 – 02.10.2022  – Program & tickets at luststreifen.com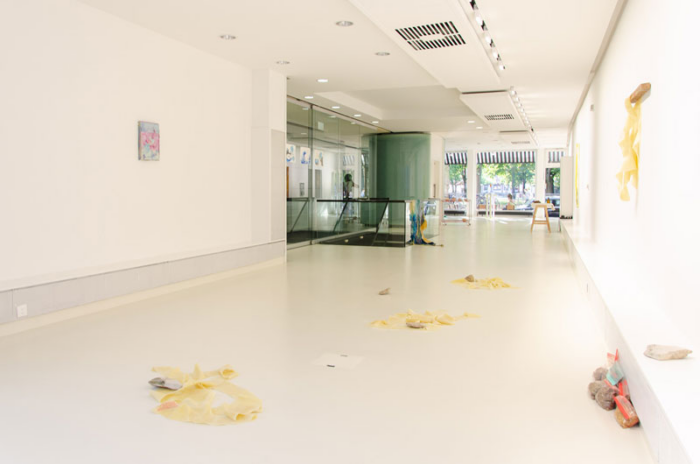 Entstanden im Rahmen des queer-feministischen «Luststreifen Film Festival Basel», fand die queere Kunstausstellung Lust*Art dieses Jahr bei uns in der Galerie Durchgang statt. Die Synergie zwischen Lust*Art und dem unabhängigen Projektraum wird dazu beitragen, einen sichereren Raum zu schaffen, in dem Lust, Träume, verschiedene Lebens- und Liebesformen, Fluidität, Sex und Body Positivity, Intersektionalität etc. lebendig werden. Kuratiert wird die Ausstellung von Pietro Vitali (he/him) and Maria Fratta (she/her)
Image Credits Alessandra Leta

Philomène Le Baron ,verre à pied': A slightly too tall stemmed glass stands at human height. The champagne flute seems to balance on its legs. The possibility of pricking the chins of the consumers of the bubbly drink is activated. The reception can begin. Let's toast to get connected. Everything is ready, the tablecloth is set. It sticks, it shines. It is waiting to receive the guests and to get dirty. The table has been domesticated. Philomène Le Baron explores interior and exterior domestic spaces by offering an exaggeration of known objects. Textures play a central role in her work and allow her to articulate her discourses and forms. She uses the characteristics of kitsch and transforms them into new material. Her pieces often refer to homes and their interiors, between the fictional and popular designs.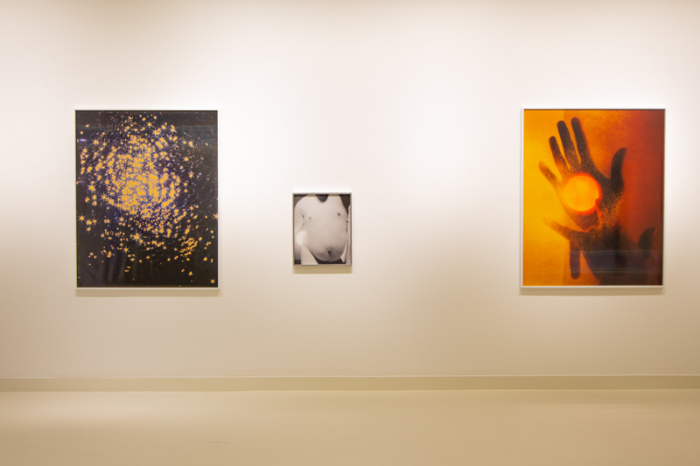 Matthieu Croizier ,Et le soleil engloutira la Terre' While often seen as an end in itself, the apocalypse could also represent a step towards renewal. Coming out, for example, is sort of an apocalypse for the artist. It is the end of an existence, a heterosexual one in his case, so necessary for survival that it becomes a very precious ending. In this project, he tries to create a story in suspension. Croizer photographs himself and other boys and men that are part of his love and/or sexual life, in a state of "in-between": A man is about to orgasm while the sun is about the explode. It is a homoerotic story against the backdrop of an impending event, his "personal faggy apocalypse", as the artist says.


Cécile Baumgartner Vizkelety  The apparently harmonious latex installation "mm" evokes as much a satellite image of the ocean or the earth as the surface of the skin. However, on closer look, it also reveals a fragile and vulnerable aspect. Indeed, latex being a perishable organic material, the work is bound to deteriorate over time and to contain imperfections. This installation results from the artist's research on hydrofeminism, a term that was created to bring together feminist, queer and ecological sensibilities and begins with the recognition that we are largely made of water. Baumgartner was especially interested in the search for unity and connection between the individual and the universe, a search that is sometimes absurd and desperate, as Cécile claims.
Luca Frati's practice revolves around drawing, writing and performance. A key element in his work: speculation as a form of political resistance. The artist is deeply interested in observing his work relationships and power dynamics between people. The presence of his genderexperience and by extent the presence of gender non-conforming bodies as political matter plays a central role in his work. This specific matter is visible in ,Just let me be' where one of the characters inhabiting the artist's world is claiming their own right to freedom. The scene is playful and sexy with references to pop culture and mangas.
Artists Soufia Erfanian & Tirdad Hashemi  live in an apartment unit of nine residents, in the Berlin Neukolln area, all of which are queer individuals. Their goal is to harmonise and build a collective lifestyle in a space that builds a creative queer utopia. They aim to define a new view onto couple's lifes through this living. The work in Blue Poisoning explores this world through various drawn, written and spoken forms, documenting events, emotions and memories.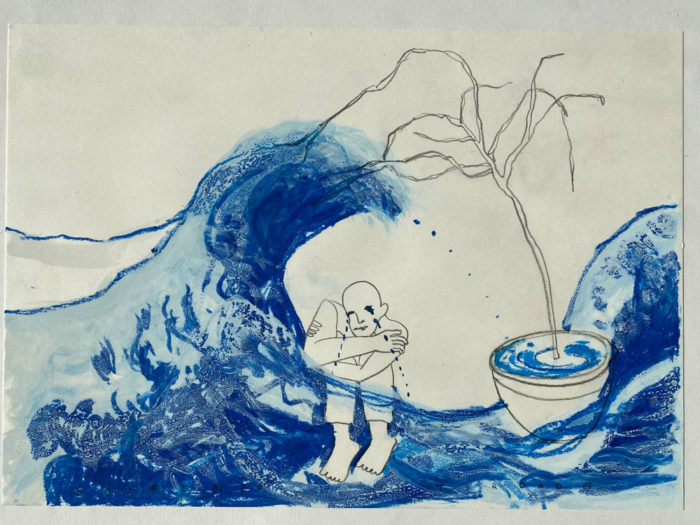 Artist Alice Capelli paints with her whole body – her feet, her hands, her buttocks and her breasts. The need for this performative process was rooted in the idea of creating visual works with one's own skin. The body on the surface of the painting therefore becomes a document and testimony of a bodily presence on earth. The performance artist was and is here, in the moment and for posterity.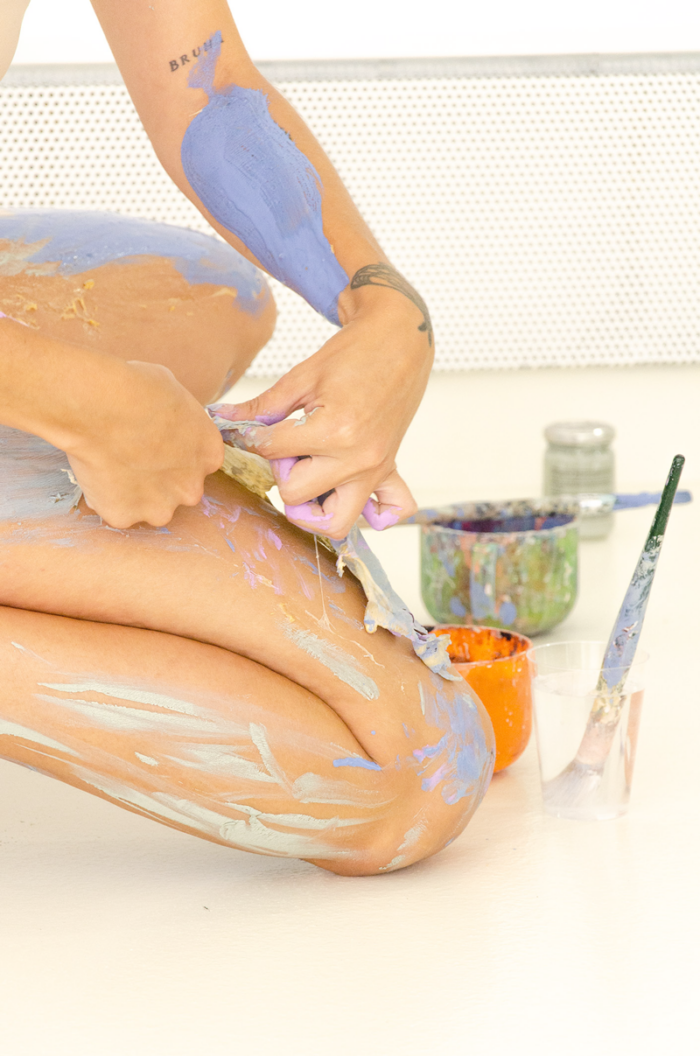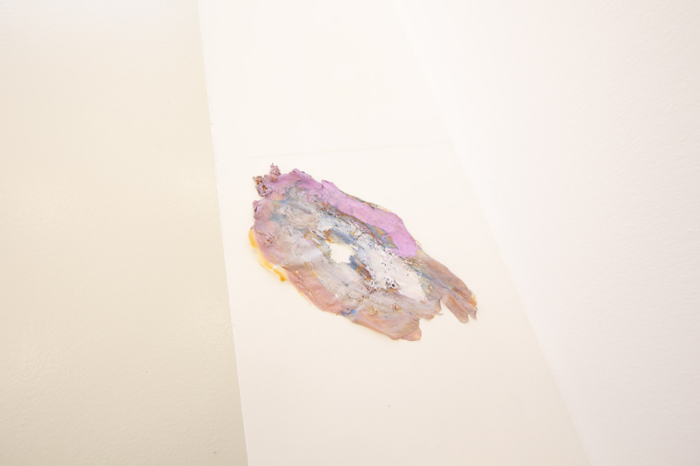 Noé

 

(Catherine)

 

Duboutay,There is a body, their bones are made of rocks' is a conglomeration of tools for body transitions through different materials (latex, stones, text, aphrodisiac tea, wooden stick (made by Maria Scaroni)). The performance is questioning gender within social structures and representations while using lived embodied information as its expression.Noé Duboutay is a visual artist, working predominantly with video, performance, and installation. In their work, they deal with questions beginning with the human body towards fluid identities, and the intersections of human identities with other-than-human beings by questioning social structures and norms. The work searches for queer connections, ally- and kinships as survival mechanisms in a heteronormative society.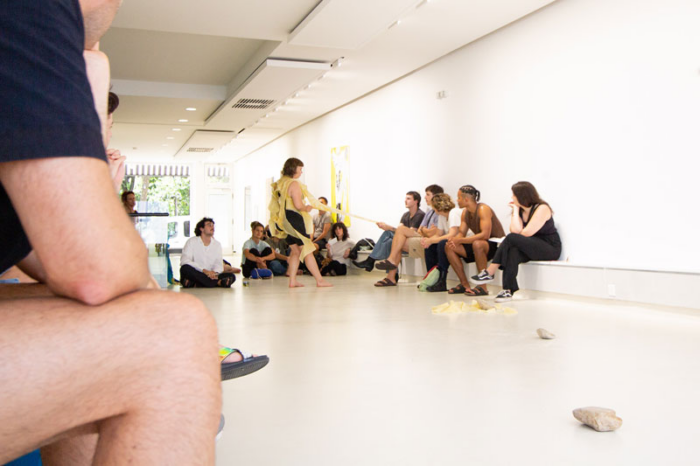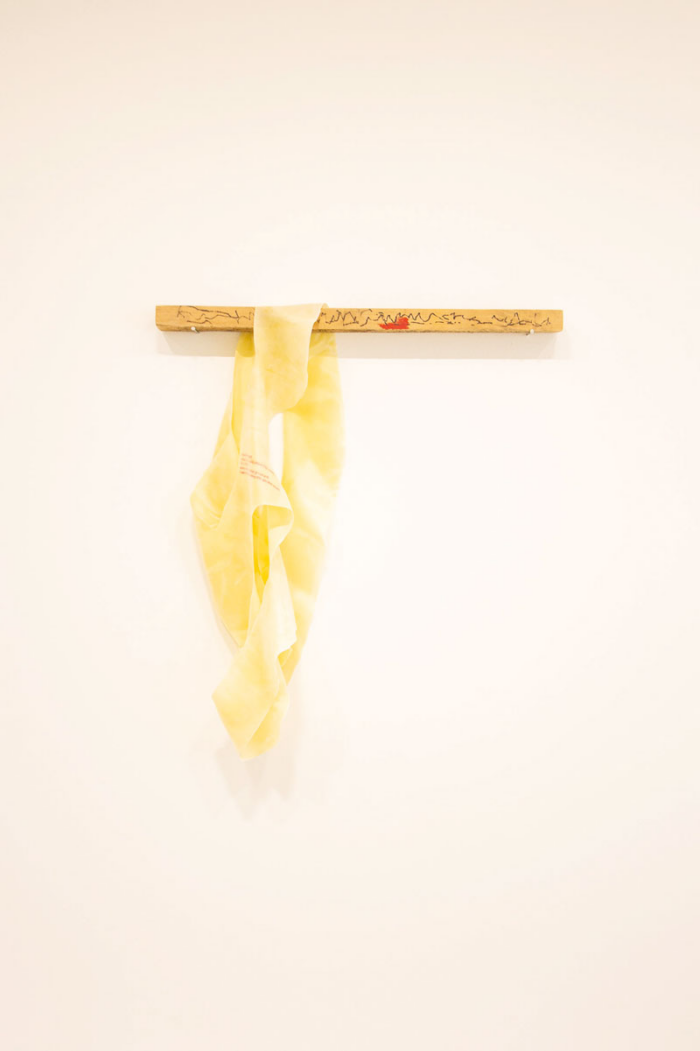 Reto Lingg, Untitled (Fragile desire, or Still longing)' is depicting a lover: Sitting up, facing forward (right) and lounging, facing the viewer (left). The lover is posing for the observer. The moment is intimate and fragile. So is the material, ceramic tiles mounted on the wall. The cobalt blue underglaze painting is inspired by artisanal ceramic tiles, often used in Brazilian architecture. The motive of the lover and the adoration of the corporeal beauty are recurring themes within the artist's oevre. In this piece the focus is on the act of longing. Longing for a fleeting moment of intimacy.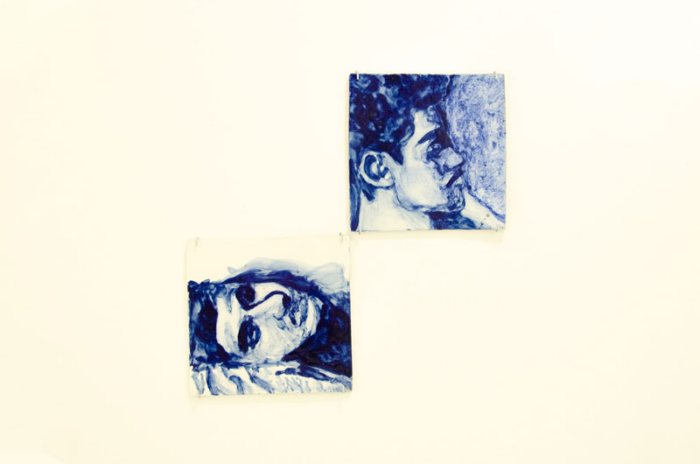 Raphael Reichert, don't look into the sun' consists of an interview with Indian-born actress and transgender activist Living Smile Vidya, who is currently in the asylum process. This interview is combined with more than a hundred recordings of the sun, filmed with a smartphone over the time span of several weeks during the first Corona lockdown.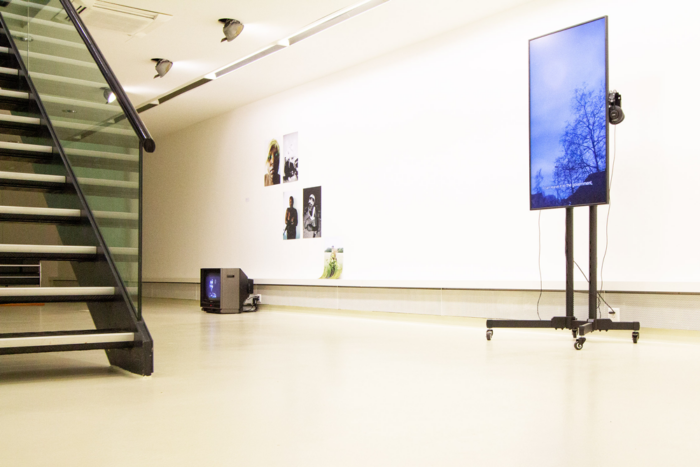 Ayomide Tejuoso (Plantation), is a Nigerian contemporary photographer based in Lagos and France. Being selected for notable awards, Foam Talent 2021 and Photo Vogue Festival 2021, her work is centered on the black experience and disposition. She references the nuanced and multifaceted works of artists and writers like Arthur Jafa, Deana Lawson, and James Baldwin, creating images that affirm the black divine, explore black femininity, and highlight the normalization of black death.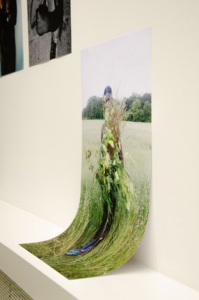 Flavia Regaldo ,Apontamentos De Curva Correnteza 'When is the shape displaced? ,Correnteza' explores tensions of the body and desire in its anti-matter, in the blind cuts of its lines and curves, in-between the unsaid and in the intimacy of the pose. An unlimited porn collection of watercolour paintings (moving, rather like quicksand paint), ,Correnteza' is built based on videos produced by invitation to participate in the project, through the premise of rethinking the body as a critical space. Sound design by Van De Michelis.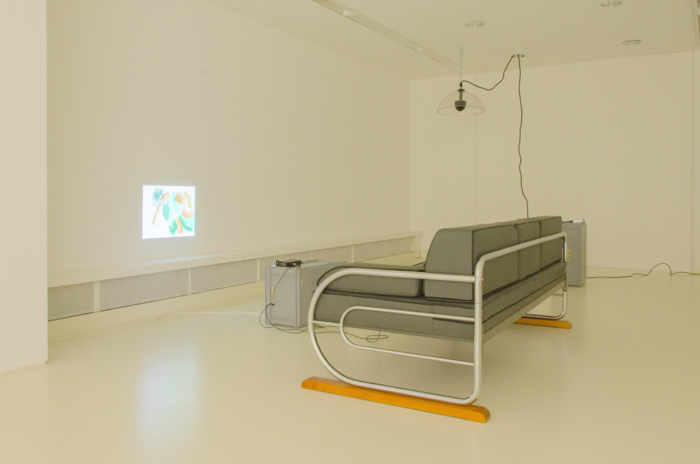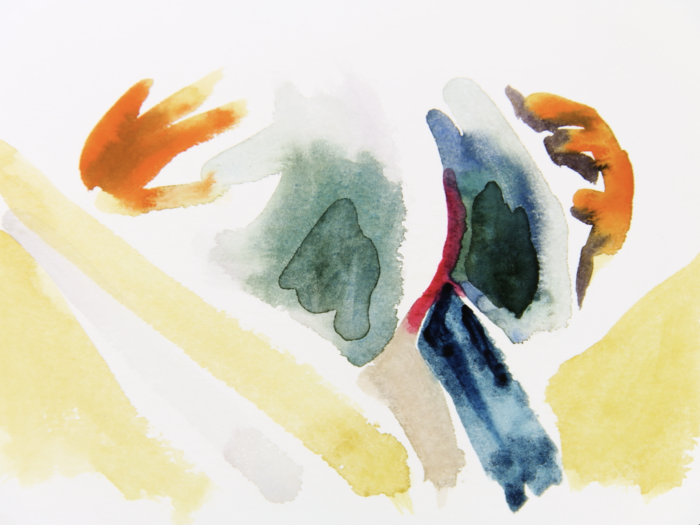 Fatma

 

Ben Ammar & Hela Briki Fatma are two Arab-queer artists based in Paris. Growing up in Tunisia, they were confronted with a patriarchal and traditionalist society. ,Pipe' comes from a memory they share as women: a mute memory, socially and religiously taboo. Translated as an art installation that relates to first-time masturbation. The act of propelling the jet of water from the sanitary pipe evokes the previous pleasure, the first sensation of experimental pleasure of intense masturbation oriented towards the discovery of the body. A pleasure, that is a primary memory of the Arab-Muslim women said to be pure of any sensation of desire. ,Pipe' is a piece of work with punchy images and catchy words that convey our ideas on power, identity and sexuality. Video montage by Charlie Kouka.